Welcome to the relaxing, homely lifestyle at Barrowhill Hall
Barrowhill Hall is an award-winning specialist dementia care and nursing home standing on the crest of a hill on the Derbyshire/Staffordshire border in a beautiful and tranquil setting with panoramic views of the surrounding countryside. We offer the highest quality residential and nursing care in a luxurious, homely and safe environment.
The home is managed by Ms Tina Coar who is an experienced care home manager. Tina oversees the day to day running, liaising with GP's, Community Psychiatric Nurses, Mental Health Assessors, Dietitians and other visiting professionals.  She also chairs regular resident's family meetings.  Tina also ensures the home is compliant with all the latest regulations and that staff are equipped with the latest technology and are trained to the highest level.
'I like to hold regular meetings with resident's families to ensure we are delivering the service we offer. When I can, I also try to involve the residents input when planning their own care and treatment, as well as their families. The importance of resident empowerment and participation is really important.' Tina makes herself available to Residents, Staff and Family members with her door always very much open, 'Being open, honest and transparent has always been at the forefront for me.'
Ms Tina Coar, Home Manager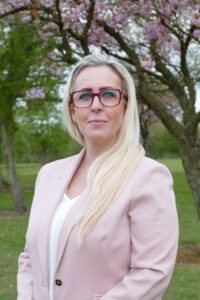 Review Score on carehome.co.uk

2014 Great West Midlands Care Awards Finalist

Top 20 Recommended Care Homes in West Midlands 2014

Care Home Awards, Finalist 2018

Dementia Care Awards, Finalist 2016
Our Care Services
Barrowhill Hall (across it's two independent care households) is the perfect choice for those in search of quality care, an active social life, comfortable and luxurious surroundings and nutritious home cooked meals. All of which offered in a warm, safe, secure and welcoming environment.
Both Barrowhill and Churnet Lodge have been specially designed in accordance with the innovative Stirling Academy guidance. We have also used our own research into how to enhance the living environment for people living with memory loss. We have a mixture of larger and quieter lounges, film rooms, a library, spa and hairdressers. The outdoor space is extensive. It has far reaching views of the local countryside and the formal gardens of the JCB world headquarters. All bedrooms are appointed to the highest standards and the majority offer en-suite accommodation.
Are You Interested In Becoming A Resident At Barrowhill Hall Or Churnet Lodge?
Please do not hesitate to get in touch to arrange a viewing and see Barrowhill Hall for yourself.